Workout at Work? No Gym? No Problem!
Our fully-equipped Trucks comes to your workplace and host Mobile Personal Training sessions with your staff. Not only will our trucks make your workforce more active, they'll enhance your workplace culture and staff wellbeing too.

Get In Touch

IMPROVING PHYSICAL ACTIVITY LEVELS AT WORK
Our on-site, Personal Training services promise to get your workforce active! Is your office or environment sedentary for the large majority of the day? Do you have a culture that promotes takeaway food as a celebration of success? By introducing The Fitness Truck® to your wellbeing culture, we'll get staff away from the desks, energised and physically (and mentally) stronger.
Personal training where you want it
All equipment provided
Programmes suited to your needs
Sessions adapted to your availability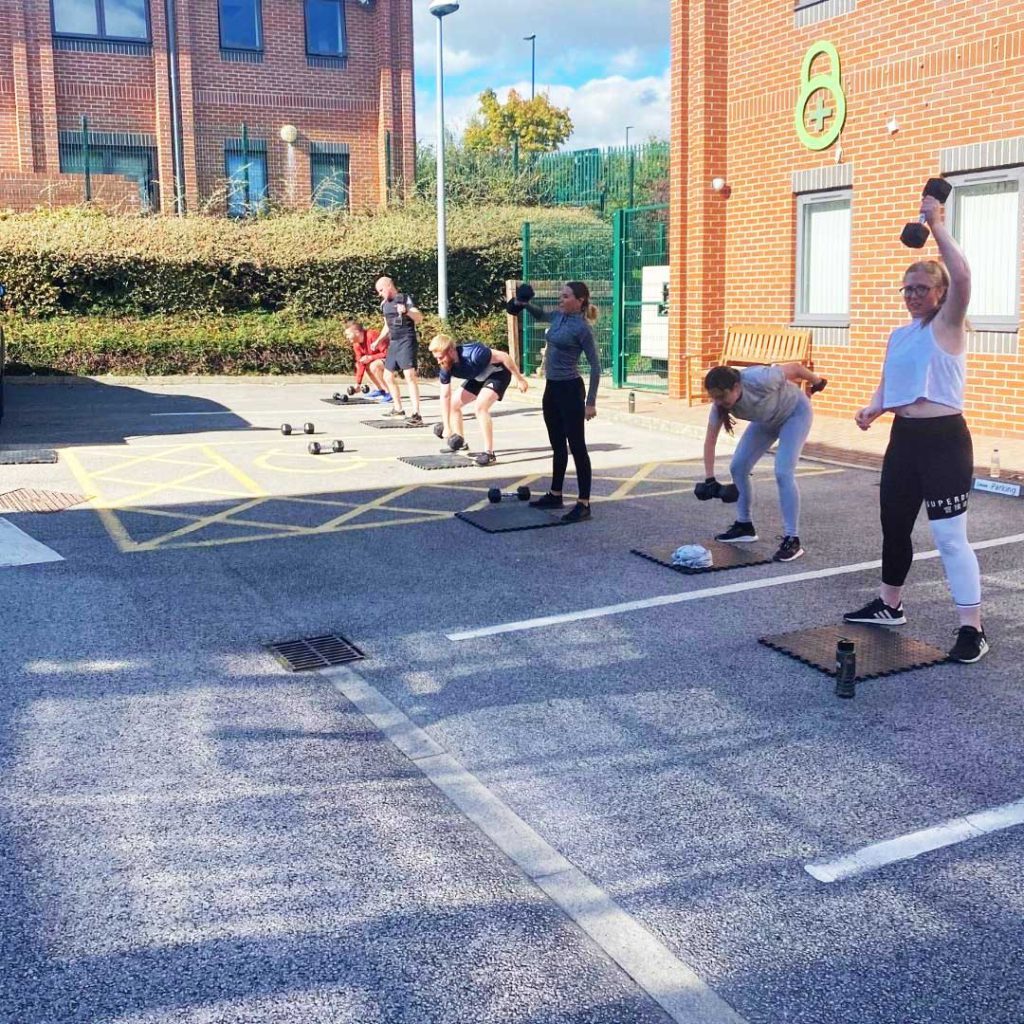 How our Corporate Training Works
By introducing The Fitness Truck® to your workplace, we promise to improve your workplace culture, reduce absenteeism, presenteeism and ultimately reduce your staff turnover rates. By capping our sessions at 12 attendees, we promise to maintain a 1-2-1 element to our coaching by not over subscribing attendees.
Option 1 – from £150 per session + mileage
Introduce The Fitness Truck® for 1 x weekly session with the team at a time to suit you
Option 2 – £POA (multisession discounts apply)
Introduce The Fitness Truck® Multi-session service to support larger workforces or those that incorporate 'shift' patterns (ie Sessions at 11am, 12noon and 1pm).
Option 3 – Half Day from £350 and Full Day from £600
Invite us to support a Wellbeing Week with a Pop up session (single or multi) as well as an Energy Expenditure Seminar
Option 4 – From £1200 per day
Have an annual sports day planned? Let us come and run 'The Cyclone' and get the whole workforce reminiscing about their childhood sports days.
What are the Fitness Truck sessions like?
We like to make fitness fun and accessible to everyone, so our sessions are always varied to keep things interesting. Our trainers will check your form throughout (we'll always do a Movement Analysis with you to check how you move) and we might suggest ways to modify movement so that you get the most from your workout. We'll ensure you're able to complete each exercise safely and with the correct techniques – then we'll start adding in some more advanced work.
We're based in South Yorkshire – lots of our sessions are around Sheffield and Rotherham, even over in the Peak District. We're regularly up to Doncaster and down in Worksop/Bolsover/Chesterfield too. Since we're the gym that comes to you (have Truck, will travel!) you let us know where you'd like to meet us.
We can Truck you in a 1m x 1m space if needed. If you have space in the garden, in the kitchen or on the drive, we'll make it work!
For our Corporate Truckers, any outdoor space or indoor meeting room can be manipulated to support your sessions.
Our Truck is packed full of functional gym equipment – things like Slam Balls, TRX Straps, Battle Ropes, Dumbbells, a Reebok Deck, Resistance Bands, Sparring Pads and a functional speaker to blast some tunes out too. We specialise in functional fitness, so sessions will use some of our equipment and we'll often include bodyweight and plyometrics/cardio style movements too. If all of this sounds like a foreign language, don't panic – we'll guide you through it all!
Our sessions typically last between 40 minutes to 1 hour – depending on the intensity we're working at and on the outcome goals you have set. We can work within your existing commitments, so if you're limited on time, we'll help you fit in shorter sessions.
It's up to you how your Personal sessions go. You can choose to have 1-to-1 Personal Training, couples fitness for you and your partner or we can run whole family sessions where the kids can get involved too during the holidays.
In our Corporate sessions, anyone and everyone can join in (up to 12 attendees per session).
For Group PT, grab your friends and work out together, spreading the cost in a more manageable way.